Virtual Mobile Infrastructure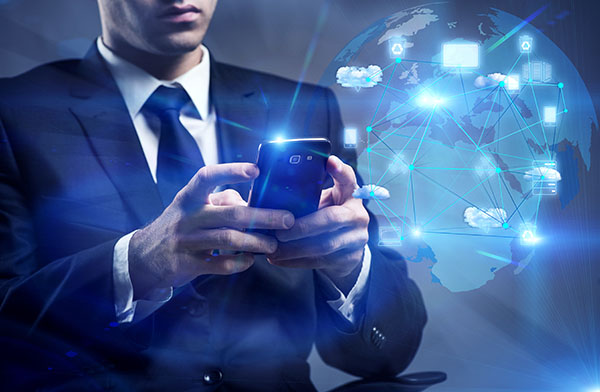 As our workforce becomes increasingly mobile, more employees are using their personal devices to conduct business. While it's convenient and cost-effective for organizations, it carries the risk of significant data loss and leakage. This is particularly true for organizations concerned about the possibility of exposing sensitive corporate data stored on devices used in the field.
Consequently, many organizations have been slow to completely adopt a bring-your-own-device (BYOD) program. Businesses are now using virtual mobile infrastructure (VMI) to allow employees to remotely access critical business applications on the network using both personal and corporate devices.
What Is VMI?
The idea behind VMI is to allow centralized applications to run on a secure host housed in the data center – rather than on the devices themselves. This permits users to access critical business applications from any device on the network. It also spares developers from the need to write multiple apps for various devices and operating systems, since hosted apps can be run on any device.
How Does VMI Work?
VMI provides mobile devices with remote access to a mobile operating system. This mobile OS, typically Android, runs as a virtual machine in a datacenter. This allows any type of device in the field – iPhones, Android phones, Windows phones, or Blackberrys – to run Android apps remotely.

Why Use VMI?
Data Security. In VMI architecture, data is detached from the operating system. Since everything is stored in a datacenter rather than on the device itself, if it's ever lost or stolen, data located on the servers won't be compromised. The IT department can easily disconnect devices that have been lost, stolen, or otherwise compromised from the network. Data backup is also simplified when everything is managed from a centralized location.
Application Security. With VMI, all business apps are isolated from personal applications, and run in separate environments. This process – known as sandboxing – prevents companies from having to invest valuable time and resources in locking down devices. Plus, employees can rest assured that their privacy is protected.
OS Security. VMI provides complete control of the mobile operating system. IT administrators have total authority over upgrades to both the OS and mobile applications – permitting them to establish granular security, authentication, and usage policies for each device.
With device-based BYOD setups, IT must cope with lost and stolen devices, operating system and application upgrades, maintenance, app development, and deployment. VMI eliminates these headaches. It offers unprecedented security and data management capabilities, since corporate apps and data are stored at the datacenter instead of being scattered across numerous mobile devices. Maintenance will also be easier since everything is controlled from a centralized location. Employees enjoy the freedom to use the device of their choice within the corporate environment. Meanwhile, employers reap the benefits of having mobile employees with fewer hardware investments.
Upgrade your infrastructure, and enjoy the security, ease of maintenance, and data privacy that only VMI can provide.
3 Powerful Proactive Monitoring Benefits For Your Business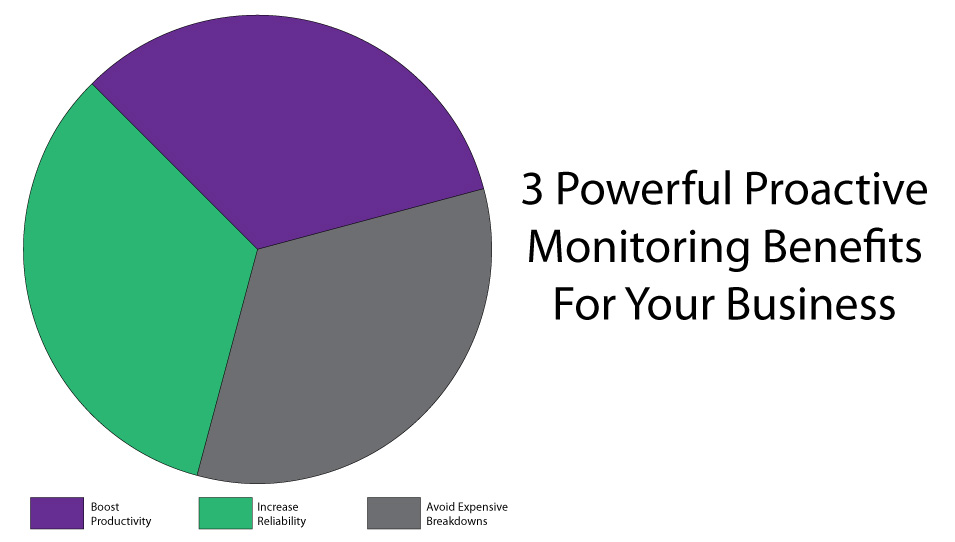 As every business owner knows, an investment in technology is an investment in your future. When equipment availability and performance are lacking, your business will suffer. You'll get the most out of your equipment when it is being actively monitored and maintained. Here are three major benefits of proactive monitoring:
Boost productivity. Critical equipment issues rarely develop overnight – most problems display warning signs of some sort first. Unmonitored failed backups, antivirus systems that are no longer updating, or hard drives failing in a drive array are all common examples of small problems that can readily develop into a crisis if left unchecked. This leads to extended downtime and service interruptions, until a solution is found to get the system back online. Early detection permits IT professionals to isolate hardware and software that is causing network difficulties, leading to more rapid response times and reducing the amount of time machines are left inoperable. In addition to avoiding disaster, daily performance can also be improved, by performing upgrades to outdated or inadequate equipment before productivity suffers.
Increase reliability. Restoring vital equipment to full functionality is far easier when proactive monitoring catches the problem early – before damage spreads throughout the entire network, negatively impacting its reliability. By identifying and correcting small problems quickly, before they have a chance to develop into a crisis, equipment reliability can be dramatically improved. Network downtime can be a nightmare for your business, but with real-time monitoring it's possible to resolve issues before you're even aware that they exist.
Avoid expensive breakdowns. IT professionals don't have to wait for users to report problems before developing a strategy to address the issues. Instead, the constant monitoring of a system actively looks for issues to solve before they get out of control. If problems go unchecked until they turn into a crisis, the resulting expense to rectify the issue can be a tough pill to swallow, especially after suffering through whatever downtime was just experienced. There is no way to properly budget for unpredictable, reactive IT expenses. Quickly determining the root cause of any network issue reduces diagnostic time from hours to minutes, resulting in a substantial cost savings.
At one time, the monitoring of network assets was reserved for very large organizations, but today it is an essential practice for organizations both large and small. Save money, improve the productivity of your team, and enjoy the peace of mind that comes from a more reliable infrastructure with proactive monitoring.