Having a Comprehensive Continuity Plan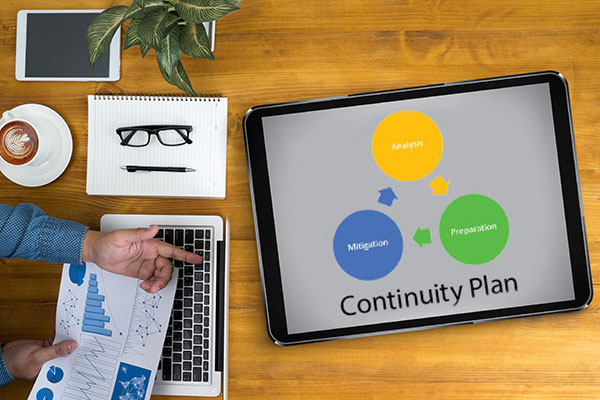 A comprehensive continuity plan can help preserve your organization. Having a properly thought-out plan allows organizations to minimize financial loss and disruption of operations in the face of a disaster. With proper preparation, companies can remain in business or bounce back quickly when faced with the unexpected – a fire, flood, or a malicious Internet attack. Effective continuity planning is achieved through: analysis, preparation, and mitigation.
Analysis. The first step of your IT continuity plan is to analyze what you already have. This encompasses a comprehensive examination of your current network structure, applications, databases, and equipment. Company data such as; contact and customer details, systems, equipment, and applications information, needs to be gathered and documented. Conducting a business impact and risk analysis will determine the security of crucial assets by considering possible catastrophes – both natural and manmade – and gauging their potential impact if they were to occur.
Preparation. It's important to incorporate multiple communication options into your plan; ensure everyone has the necessary phone numbers, web addresses, and emergency contacts to stay in touch. Make routine backups, store at least one copy offsite, and test them regularly. Company data is vital to the continuation of the business, making the impact of data loss from hardware failure, human error, hacking, or viruses detrimental to the productivity of a company. Identify vital applications and ensure that duplicates of this software are available to reinstall on replacement equipment.
Mitigation. The final step is to limit the damage. The use of cloud-based applications can allow an organization to plan for disruptions. Employees can access company data through their personal home computers, allowing them to be more productive by utilizing the environment they are already familiar with during outages. In disaster situations, phone communication might be down, and mobile phones can be a lifesaver. Smartphones in the workplace improve business continuity, making it easier to communicate via voice, text, or data. Mobile phones make it easy for employees to interact with coworkers, clients, and vendors from various remote locations during an emergency.
A comprehensive IT continuity plan allows for an organized recovery, ensures the company's assets remain secure, and provides a mechanism for the continuation of business operations. Plan for the worst, and enjoy the peace of mind that comes from knowing that, even if the unthinkable happens, your critical data will be safe.