2016 Top Tech - For Business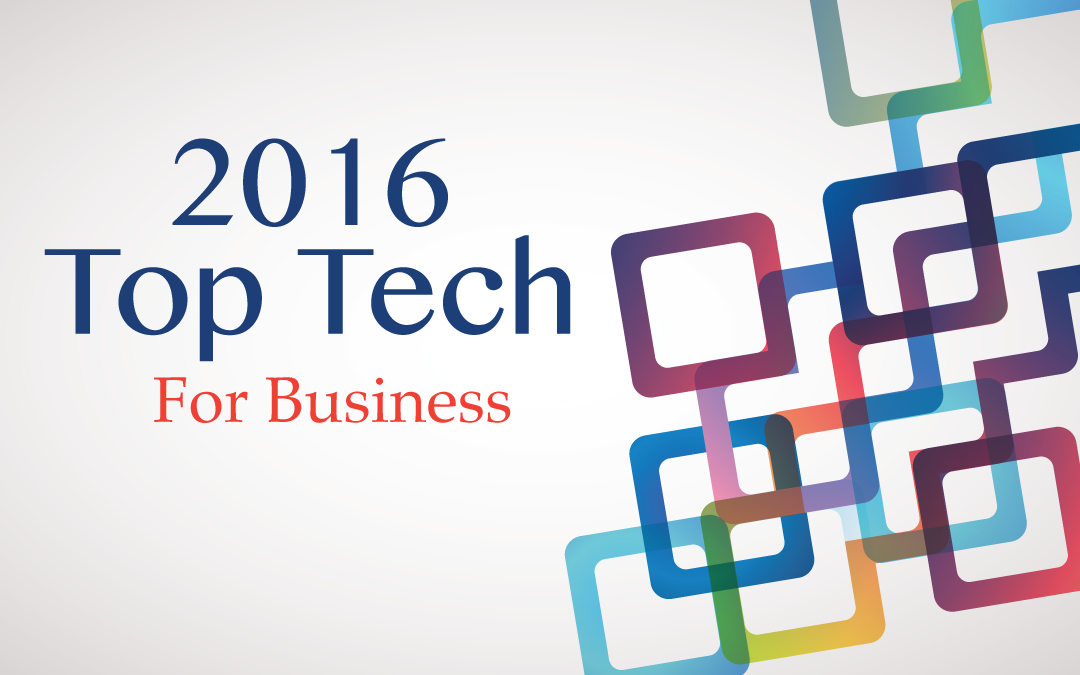 Year after year, innovative technology companies release products that redefine the way we work. The best tools boost productivity, save time, and make a day at the office a bit more fun. Here are a few of the most innovative gadgets available today:
This pen has a camera in the tip that works with microdots printed on the included paper to follow pen strokes. It's a really effective way to record your handwriting to a digital page, or you can use it to digitize your drawings. The internal microphone captures audio from your meetings with crisp, clear sound, offering a recording time of up to 200 hours. Micro-USB allows you to share notes and audio with your desktop computer, while simultaneously charging your smartpen.
Shaped like a key to easily and discreetly fit onto your keyring, the PetiteKey is a stylish and functional portable storage solution. Offering 8, 16, or 32 gigabytes of storage, the key is water and scratch resistant, providing the security of AES 256-bit encryption.
Logitech Bluetooth Multi-Device Keyboard K480
This keyboard can be shared between Windows and Mac computers, as well as iOS and Android smartphones and tablets. It provides a convenient slot for you to park your smartphone or tablet for reading as you type, eliminating the need to tap out lengthy messages on a small touchscreen. While typing a document on your computer, you can turn a dial to begin typing a text message on your phone, then turn it again to search the Internet using your tablet.
This is a fast, convenient, and easy-to-use storage solution perfect for today's busy professionals. Conventional hard drives have been the primary storage device for desktops and laptops for years, but they are now being supplanted by SSDs. Up to 100 times faster than hard drives, they provide much quicker boot times and higher file transfer speeds. This flexible and lightweight storage solution can easily fit in a briefcase or purse, and is tough enough to withstand a 6-foot drop.
For scanning while you're on the road, check out the Doxie One. This scanner works without a computer, and it's small enough to travel anywhere. Scans are stored on an included SD card, and can be uploaded to your Mac, PC, iPad, and the cloud – so your scanned data is always with you. Doxie's app covers automatic contrast, rotation, and cropping, and the integrated OCR makes it easy to search through the content of every scan.
Here's a neat way to keep up with your business receipts. This wireless device scans all types of paper, from store receipts to large bills, and sends them to the NeatCloud – no computer required. Key information is extracted from the scans, so you don't have to type in all the details to generate expense reports. Scanned images may be sent to Excel, Outlook, or QuickBooks, further simplifying your bookkeeping.
HP 1200w Mobile Print Accessory
This device allows smartphone users to connect to the USB port of supported printers, so they can print directly from their phones and tablets via NFC. NFC-capable smartphone and tablet users can print by simply touching their device to the HP Mobile Print Accessory.
This smart, sleek charging station provides enough USB ports to charge up to 10 tablets, smartphones, and other gadgets simultaneously. The MultiDock automatically detects the proper charging rate for each device, ensuring that everything is charged as quickly as possible. The outer perforated cover maintains airflow to keep your devices cool, and the unit can be locked with a key for security.
Snapjet is the world's first slender, portable, open-source instant film printer. It seamlessly connects with smartphones – no wires, wifi, ink, or apps required. From personalized business cards, to photos, to birthday cards, if you can see it, you can print it.
If your technology is feeling a bit stale, it may be time to consider an upgrade. Whether you're looking to improve efficiency, get work done on the go, or just make life a little easier, these gadgets are sure to brighten up your day at the office.
Don't forget! Always check with your IT Professionals to ensure that your new gadget will work with your current system.
JFG, Inc has no material relationship to any brand or person mentioned in this post. It is strictly our opinion and review of each product.